After seeing first-hand the love and care provided by Beatson Cancer Charity, Hazel joined the charity to follow her passion of therapies to help more people affected by cancer. This is her story.

Before working for Beatson Cancer Charity, I worked as a Registered Nurse for six years in a variety of settings, yet I always had an interest in beauty and complementary therapies. Working in the wards, I felt there was a real need for this type of service for patients but had never actually come across it before. I decided to train in complementary therapies, while keeping up my nursing registration. However, I was unsure how I would be able to use this in a clinical setting.
It was during training that I came across Beatson Cancer Charity. My Mum found out that she had recurrent breast cancer and had to attend The Beatson for chemotherapy. When we attended the day unit for her first chemotherapy treatment, I noticed a therapist providing services to the patients. I had a chat to her and found out more about the charity and its services. It was at this point I knew this was what I wanted to do - providing relaxing therapies to patients but still utilising my nursing background and knowledge.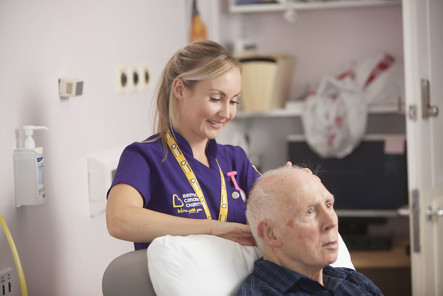 When I finished my training, I applied for a job with the charity and was absolutely ecstatic when I got it. I have now been with the charity for a year and a half and can honestly say I absolutely love my job. Sadly only a few months after starting the job my Mum lost her battle with cancer. She was an inpatient at The Beatson for two weeks prior and this experience has given me an even bigger understanding of why the work we do is so important to patients and their families. Mum benefited from receiving lovely, relaxing therapies almost every day, which helped her massively and eased the pain she had. It also gave her someone else to talk to that wasn't family. This helped her to release her emotions and worries.
We also used the beautiful Wellbeing Centre as a place to escape the clinical ward environment and spend quality family time with Mum at this difficult time. It was special for my family to see where I work and for them to benefit from the centre and support from my wonderful colleagues. I will always remember the day we were told the devastating news that Mum's treatment was no longer working, we went up to the Wellbeing Centre afterwards and there was a volunteer playing the fiddle. The music and entertainment immediately lifted the mood and took our mind off things.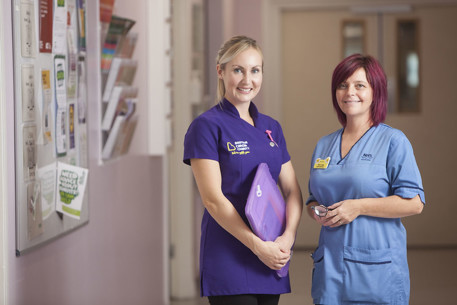 After experiencing what Beatson Cancer Charity does from both perspectives I hope this makes me a better therapist with a clearer understanding of exactly how people are feeling and the emotions they are experiencing. For me as a therapist, it's an absolute privilege to work with people going through what is one of the most difficult times of their lives. I've met some inspirational people and have had the opportunity to get to know them and their families. Their positive attitude and mentality is incredible and I feel so lucky to do what I do.  
 
The support and commitment we receive from our supporters is so important as it allows us to keep doing the jobs we're doing. With one in two now affected by cancer, it's vital there are people like us in place to support patients, families and their friends. This support we provide doesn't stop at The Beatson. The continued support the charity receives means services are provided at eight other wellbeing locations across the west of Scotland. I am based at the Inverclyde Royal Hospital two days a week and I know from speaking to patients how much of a difference it makes to them to be able to access Beatson Cancer Charity services closer to home. Some patients can't always travel to The Beatson, so it's nice to be able to bring our services to them.
I love my job and I see the difference it makes to people and how they look forward to their therapies. That's why I want to make sure that we'll be around for years to come.
Please donate today to support even more patients and their families facing cancer.
I love my job and I see the difference it makes to people and how they look forward to their therapies. That's why I want to make sure that we'll be around for years to come.
Hazel