We are delighted to announce a Beatson Cancer Charity employee has been shortlisted for an SCVO Award. 
The event, which is run annually by the Scottish Council for Voluntary Organisations (SCVO), celebrates the best of Scotland's voluntary sector. 
Beatson Cancer Charity's volunteer coordinator, Paul Sheerin, has been recognised as a finalist in the Employee of the Year category following his dedication and passion for his role in the charity. 
In 2013, the then dad of one was diagnosed with testicular cancer. Paul started volunteering for the charity when he received the all-clear and in 2017 joined as an employee, initially as volunteer engagement officer and since then promoted to volunteer coordinator.  
43-year old Paul, who lives in Cumbernauld with his wife Louise and three sons, has now raised £117,000 over the years for other families impacted by cancer. He organises annual footgolf events and has taken part in ten Kiltwalks. To celebrate 10 years of being cancer free, he's also hosting a ball in June in aid of our charity. 
PICTURED: Paul Sheerin managing the Befriending telephone service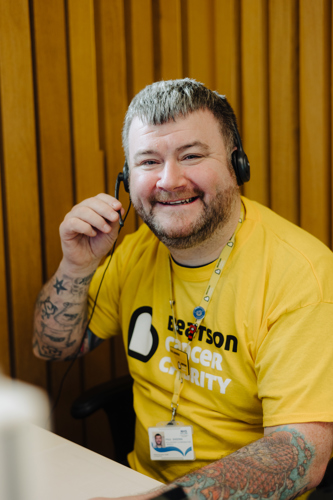 Paul Sheerin, volunteer coordinator at Beatson Cancer Charity, said: "Being nominated by my colleagues was a lovely surprise, but to find out I've been shortlisted for such an award is truly humbling. 
"The charity means so much to me after the care, love and attention my wife, Louise, our boys and I have and continue to receive." 
Paul was nominated after the kind gestures he shows patients and staff in and around the hospital. Paul spends time playing pool and chatting with young patients who are in for treatment, hand delivered Christmas presents to Befriending clients at their homes whilst on annual leave and often delivers food from the Beatson Café to patients in wards and staying for a chat to give relatives a break, all on top of his role at the charity. 
At Paul's ball in June, he's also asking all 400 guests to bring a packet of chocolate biscuits for the tea trolley for patients in the chemotherapy unit. 
PICTURED: Paul participating in one of his ten completed Kiltwalk events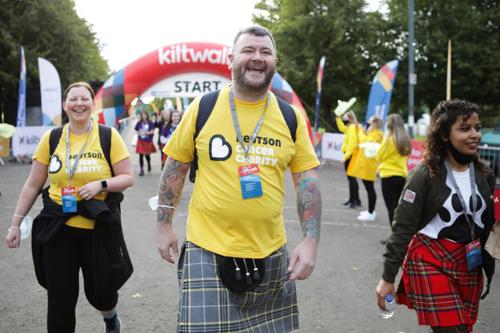 Martin Cawley, CEO of Beatson Cancer Charity, said: "We are delighted to see Paul being recognised for the incredible commitment and dedication he shows to Beatson Cancer Charity and more specifically our volunteer services. 
"Following his own experience, he is driven by an unrivalled and deep desire to help make the journey for people who have cancer just that little bit easier.  
"He is much loved by the volunteers he supports, his colleagues in the organisation and staff in the Beatson West of Scotland Cancer Centre and staff from all over the hospital. He is a well-known and much-loved face around the hospital." 
The 2023 Scottish Charity Awards winners will be announced at a celebratory awards ceremony in Edinburgh on Friday 23rd June, hosted by TV presenter Sally Magnusson. 
Anna Fowlie, Chief Executive of SCVO, said: "This year's Scottish Charity Awards are a fabulous opportunity to celebrate the exceptional individuals and groups within our vibrant sector.  
"This year's record-breaking number of nominations underlines the strength of Scotland's voluntary sector, and the crucial work that we see from charities and voluntary organisations across the country. The hard work and dedication of people and organisations like these 32 finalists are making Scotland a better place to live and work.  
"There is still a chance to have your own voice heard by voting in the People's Choice Award. Don't be late – participate!" 
This year's shortlist includes 32 individuals and organisations from charities and voluntary groups across the country following a record-breaking number of nominations. While a judging panel will determine the winners under nine distinct categories, members of the public can have their say by voting for their favourite overall entry in the People's Choice Award – by visiting scvo.scot/vote - before 5pm on Wednesday 24 May 2023.