Children from a nursery in Renfrewshire have taken part in a 'welly waddle' to show their support for one of their teachers, who was diagnosed with cancer last year. 
21-year old Jade Crawford from Johnstone is a nursery practitioner at Abbey Nursery in Houston and is currently going through treatment, after being diagnosed with acute myeloid leukemia in April 2022. 
The children at the nursery raised £3,000 for cancer charities by taking part in the activities, with £1,500 being donated to Beatson Cancer Charity. 
Jade was diagnosed after having constant pains in her legs, and a blood test carried out by her GP led to her diagnosis. 
Jade said: "I was in shock and I burst into tears. I couldn't take in what the doctor was saying to me. All I remember was I was told to go home and pack a bag and wait for someone from The Beatson to phone me.   
"Within 48 hours, a bone marrow biopsy and more blood tests were done at The Beatson. One week later I was admitted to The Beatson to start my first round of chemotherapy.  
"I went through 25 days of four different types of chemotherapy drugs, which had to be approved to be used in Scotland as a new combination as they had just been approved in England after a successful clinical trial. From what I was told, I was one of the first to use the combination in Scotland." 
Jade underwent a stem cell transplant as part of her treatment but is now being treated for Graft-versus-Host disease (GVHD) which can occur when the donor's T cells view the patient's healthy cells as foreign, and therefore attack and damage them. 
PICTURED: Abbey Nursery kids and teachers with Bella the Beatson Bee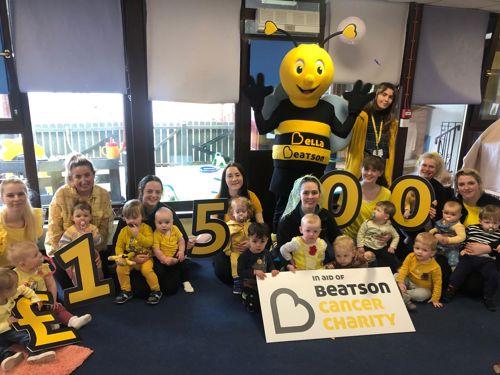 Jade said: "I was lucky that after the first round of chemotherapy, I was in remission.  
"The treatment itself was tough but what made it tougher was not being able to see any of my family or friends due to risk of infection.  
"The transplant was even tougher as the conditioning treatment before having the transplant made me very unwell and I am still very weak and at the moment as I'm being treated for GVHD, so I've had a few short stays in hospital." 
The manager of Abbey Nursery, Jennifer McLaughlin, came up with the 'welly waddle' fundraising idea following Jade's diagnosis as a fun way for all the children to feel included in showing their support for Jade. 
The sponsored event took place between 26th September and 3rd October last year. The children brought their wellies to nursery each day during the activity period and took part in different walks in the local community. The older groups took on longer waddles while the babies waddled around the grassy field next to the nursery. They also took part in fun-filled activities including transient art welly creations and indoor welly throws. 
PICTURED: Jade Crawford in hospital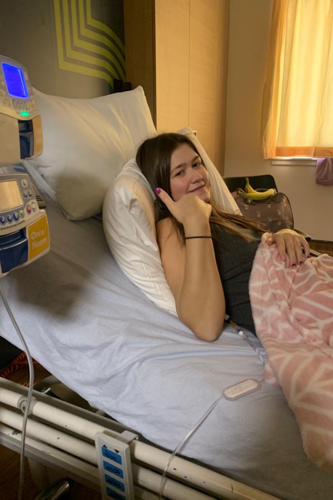 Jennifer McLaughlin, nursery manager, said: "The team at Abbey Nursery wanted to support Jade during her treatment. One of the ways we felt would be most meaningful to Jade was to allow her to share her story with our families, sharing her journey and how far she has come. 
"On the sponsor forms Jade shared her story and chose two charities for the welly waddle fundraising money to be split between. Jade herself mentioned that The Beatson was a fantastic support from her diagnosis and through her recovery and we have heard just how much the Beatson means to her personally because of this. 
"The children loved participating in the welly waddle and some even said they felt like Peppa Pig splashing in the muddy puddles. The walks were filled with laughs and giggles from the staff and children.  
"We miss Jade incredibly and are so happy to hear Jade is in remission. We are more than just a staff team; my team are like my family and I would always aim to support and help all of my staff in any way I can. Jade has a fantastic support group around her and a staff team that will always look out for her, it's so important that she has that." 
PICTURED: Bella the Bee with the kids from Abbey Nursery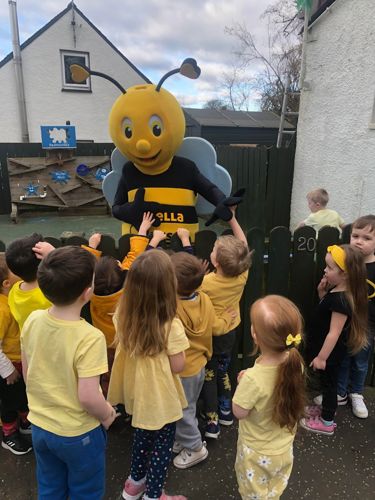 Seonaidh McGuire, community engagement fundraiser at Beatson Cancer Charity, said: "We are so grateful to everyone at Abbey Nursery for taking part in fundraising events in aid of our charity. 
"This generous donation will go towards supporting more patients like Jade and their families as they go through treatment following a cancer diagnosis. 
"We'd like to thank Jade for choosing our charity to benefit from the fundraising activities and we're wishing her all the best."