A man from Glasgow is taking on a cycling challenge to raise money for Beatson Cancer Charity. 
34-year old John Gibson from the south side of Glasgow will be taking off from Firhill on Friday 31st March at 6am. He'll then cycle to Easter Road, then to Tynecastle, back through to the east end of Glasgow to Celtic Park, to Ibrox and then finishing at Hampden.  
John, who co-owns a goalkeeping academy, is set to complete the 120-mile challenge in one day, with friends and family following him on his route to cheer him on. 
He's taking on the challenge after family members previously went through treatment at The Beatson and sadly passed away, and now one of his friends is currently being treated. 
PICTURED: John Gibson outside Hampden, the final stop on his challenge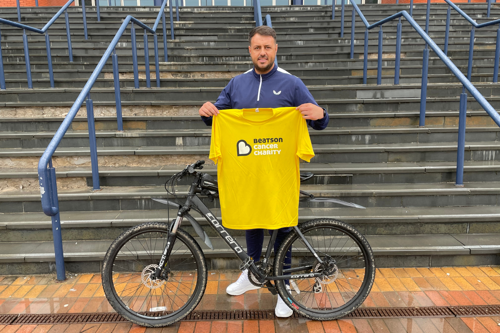 "Hopefully doing this challenge will urge others who have used the hospital to raise money for a great place."
John Gibson, 34, Glasgow
John said: "I've lost two family members through cancer. My friends have also lost family members following a cancer diagnosis after they were treated at The Beatson. 
"The staff at The Beaton help everyone – everyone at the hospital was so helpful and always going that extra mile to make them feel comfortable.  
"A friend who is currently being treated for cancer at the hospital can't praise everyone enough - I've visited my friend and the hospital is amazing, as are the staff.  
"Seeing what this hospital does and how important it is to everyone makes me want to try give a little back for everything they are doing just now for my friend." 
John's Just Giving page has already raised an incredible £700 for Beatson Cancer Charity. 
John said: "My hopes for the day are to get a good sunny day, raise as much as possible for Beatson Cancer Charity and just say thank you for what they have done in the past and present for my friend.  
"I'm sure everyone knows someone who has used The Beatson and they deserve a lot more credit than what they're given. 
"Hopefully doing this challenge will urge others who have used the hospital to raise money for a great place." 
Niall Gibson, community and challenges fundraiser at Beatson Cancer Charity, said: "We are so grateful to John for taking on this fantastic fundraiser. 
"It always inspires us when our supporters come up with new and exciting fundraising ideas, and John's challenge is no exception. The money raised will help us to support so many cancer patients and their families in the west of Scotland. 
"We are wishing John the best of luck and keeping our fingers crossed for some sunshine!" 
Donate to John's Just Giving page here.