A group of fifth year pupils at St Mungo's High won £3,000 for Beatson Cancer Charity after taking part in the Youth and Philanthropy Initiative (YPI). They chose to raise money for our charity after their friend, Brooke McGuiness, went through treatment at The Beatson West of Scotland Cancer Centre. We spoke to team leader, Thomas Campbell.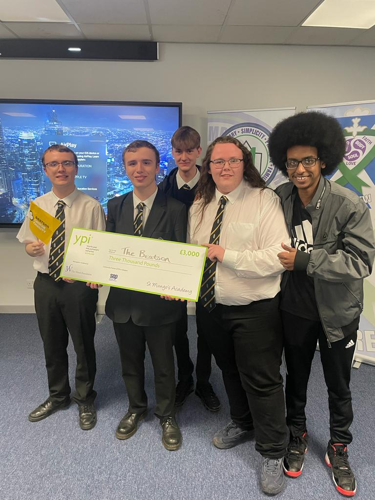 What is the Youth and Philanthropy Initiative?

"It is a project undertaken by a lot of schools in Scotland. We were set into groups and had 10 weeks to reach out to a charity, get their approval and create a presentation which would be judged and voted on. The winning team would receive a £3,000 grant for the charity of their choice."

Why did you choose Beatson Cancer Charity for your YPI project?

"We had heard a lot of great things from those we know, such as Brooke herself as well as our Physics teacher, whose dad received help from The Beatson. We knew that if we selected them, we could make a massive impact on our school community."

How pleased were you to win?

"Obviously, there's a sense of competition to these kinds of things, and to have been selected as having the best cause and presentation was thrilling and made all members of the group incredibly happy. Not only this, we were so pleased to have helped a charity that has supported our friends, family, and people close to those in our school community."

What does it mean to your team and Brooke?

"It means the world to me that I could have a hand in giving such a hardworking and amazing charity money which will go towards saving lives. It is hard to put into words how much news like this would mean to someone like Brooke, whose life was saved by The Beatson. What she told us about your charity really motivated us to work on this project, and we could not have done it without her."
If your school would like to consider choosing Beatson Cancer Charity for a YPI project in the future, email: fundraising@beatsoncancercharity