A 9-year old boy from North Lanarkshire raised £825 for Beatson Cancer Charity by taking part in the Santa Dash last month, after his mum was diagnosed with cancer. 
Sonny Peeke, from Bellshill, took part in the event as a way of saying thank you to the staff at the Beatson West of Scotland Cancer Centre for looking after his mum, Lesley Ann Callaghan. 
Sonny, who goes to Holy Family Primary School, said: "I took part because my mum has cancer and we wanted to do something for the Beatson because they're helping us a lot.  
"They've been really supportive of my mum. 
"It was a really big event and very special. I was really happy to complete it." 
PICTURED: Sonny and his mum after they completed the Santa Dash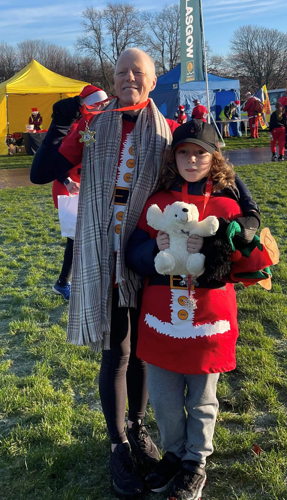 Sonny's three siblings, 23-year old Lewis, 27-year old Sophie and 29-year old Louise, all supported him with his challenge and helped by sharing his fundraising page. 
Sonny's dad also came to watch the pair take part in the event. 
PICTURED: Sonny taking part in the Santa Dash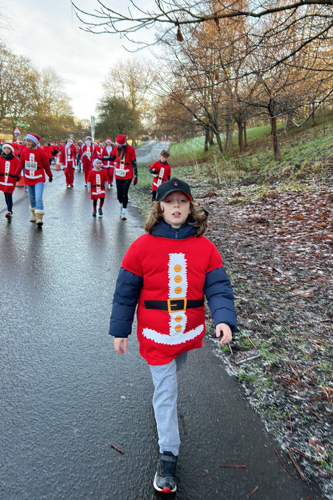 He continued: "Family and friends were saying congratulations and well done to me. All the comments on the fundraising page said things like 'excellent' and 'well done' and asked me when the next one was. 
"I definitely want to do another one in the future." 
51-year old Lesley Ann was diagnosed with ovarian cancer in May last year. 
Lesley Ann said: "It was a rocky path at the start and I spent a lot of time in the hospital, but I'm by the worst part and just plodding on now. 
"It really touches me to know that Sonny's that kind of special person who would be able to do that. 
"A lot of parents have said to me 'my 9-year old wouldn't do it' but he did it with me and the main thing is we completed it together. It'll be a memory that he'll carry on. 
"It's an amazing thing and maybe it'll inspire other kids to get some trainers on, get out there and raise some money for charity. 
"It was an emotional day and to top it off we got a spot prize as well as we came through the finishing line, so Sonny went up and got a polar bear cuddly toy and a nice wee trinket that we put on the Christmas tree." 
Seonaidh McGuire, community engagement fundraiser at Beatson Cancer Charity, said: "We were so grateful Sonny chose to fundraise for us as a way of thanking the wonderful staff at the Beatson. 
"The money he raised will help us to support so many other families just like his. 
"He is an inspiration to us all and we can't wait to see what fundraising events he gets involved in next!" 
Join #TeamBeatson by taking on a challenge this year to help make a difference to patients and their families with the funds you raise.