We're hosting our tenth anniversary Off the Beatson Track event at the end of August. 
The annual walk will see around 2,000 participants take on a 10K to raise money for patients and their families who are facing a cancer diagnosis. 
The last ten years have seen over 14,000 participants walk over 86,800 miles. 
It will start at the Riverside Museum in Glasgow on Sunday 27th August and go past The Beatson West of Scotland Cancer Centre on Great Western Road, via Kelvingrove Museum and back to the Riverside Museum to finish. 
A festival village will be at the finish line for supporters to enjoy food, entertainment and take part in activities. 
22-year old Abby Maxwell from Blantyre in South Lanarkshire is taking part in the walk after ringing the bell to signal the end of her treatment last month. 
PICTURED: Abby Maxwell ringing the bell to signal the end of her treatment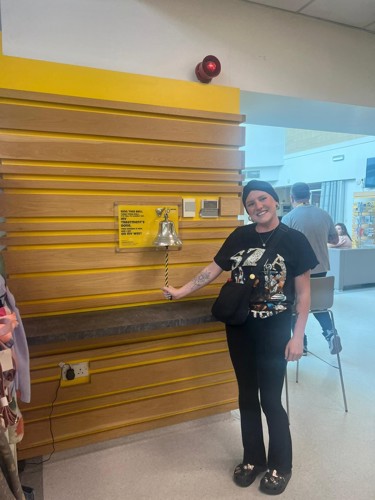 Abby said: "I decided to take part in this year's Off the Beatson Track as I unfortunately was diagnosed with Non Hodgkin's Lymphoma at the beginning of the year, and The Beatson have supported me massively right up until I got the all clear on 28th July. 
"The Beatson is important to me because it was there for me during the worst seven months of my life. 
"If it wasn't for the support from the nurses and doctors I had the pleasure of meeting, I wouldn't be where I am today.  
"The comfort and help I received from Ward 7 and Ward 8 during my treatments, went so long in helping me through such a rough time in my life.  
"During my time going through treatment, I unfortunately had to stay a few nights but the Teenage Cancer Trust Unit created a comforting environment. It also created a sense of normality by providing the Chill Out area and allowing my Mum to stay with me.  
"My Clinical Nurse Specialist and Doctor were both amazing in comforting me in our first meetings and until the end when they gave me the best news that I am in remission. 
"I thank everyone who works tirelessly in The Beatson to continue to support all of us when we are going through such a challenging and stressful time. I could not be more grateful." 
The fun-filled event is accessible for all ages, making it a great day out full of family entertainment. 
STV's Laura Boyd and BBC's David Farrell will be hosting the event. 
Jo Ford from Prestwick, Ayrshire is taking part with 26 others from their street in memory of their neighbour, 39-year old Glen Lawlor, who passed away last month. 
Glen's 8 and 12-year-old daughters, Kate and Lola, and his wife, Avril, will be taking part too. 
PICTURED: Glen Lawlor with wife Avril and daughters Kate and Lola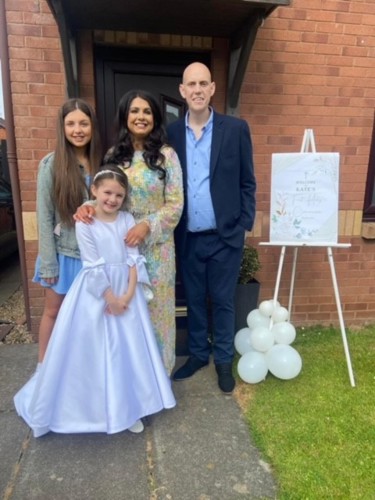 Jo said: "Glen battled cancer for eight years. He was first diagnosed when Avril was 25 weeks pregnant with Kate.  
"He was the bravest man we have ever met. All through his illness he never let it get in his way.  
"He worked as a policeman, he coached girls football and was at all Kate's cheerleading competitions."
Glen was diagnosed with melanoma when Avril was pregnant with Kate. The cancer had remained stable for years until it returned to his stomach during summer last year.
Jo continued: "The Beatson was a huge part of their family's life treating Glen for eight years and we just want to try and say thank you and raise money to help other families.  
"Glen rang that bell once and unfortunately the cancer came back.  
"We want to help someone else get the chance to ring it. He didn't lose his battle - he was a warrior." 
Those taking part will be given a free Off the Beatson Track t-shirt after signing up, and a medal at the end for completing it too. 
Maisie McCormick, community fundraising manager at Beatson Cancer Charity, said: "We're so excited to be celebrating Off the Beatson Track's 10-year milestone.   
"It's our flagship event and every year we're overwhelmed by the support we receive, but this year is set to be the biggest and best event yet with around 2,000 participants and lots of fun and entertainment for all the family on the day.  
"Every single walker is helping us support more cancer patients and their families in the west of Scotland over the years to come, so we're very grateful to everyone who signs up to take part." 
Find out more and sign up to the event here.