We're delighted to announce ward volunteering within The Beatson West of Scotland Cancer Centre is celebrating its fifth birthday this weekend. 
Ward volunteering was introduced in 2018 and involves volunteers giving their time to visit patients in the wards, offering companionship and someone for patients to talk to. This helps to reduce loneliness and isolation for patients.  
Tracy has been a ward volunteer since the role was created and we are grateful she continues to support us every week alongside her job. 
Tracy volunteers as a way of giving back after she was treated in the hospital 8 years ago. 
PICTURED: Tracy volunteering on the wards at The Beatson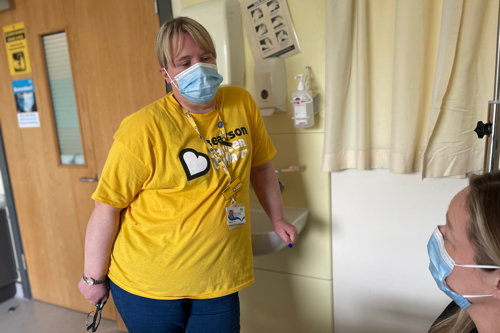 Tracy, 49 from the southside of Glasgow, said: "I started because I was a patient here and at the time the cancer charity wasn't up and running, it was Friends of the Beatson. 
"I was diagnosed with cancer when I was 41 and there wasn't anything, and after my treatment I always wanted to give something back. 
"I think it was on one of my visits, I saw the volunteering opportunity and I had a wee meeting with the team and it just started from there. 
"At first, I started to volunteer at events because that's all there was to do and then ward volunteering started and I decided that's what I wanted to do because I knew what it was like - sometimes you needed someone, so I decided I wanted to do that." 
When the service started in 2018, 19 volunteers took part, providing over 200 hours of ward volunteering. Unfortunately the service was suspended in March 2020 following the Covid-19 pandemic.  
However it restarted in June 2022 to provide patients with additional support while they go through treatment.  
Tracy returned as soon as the service was back up and running. 
Tracy said: "I absolutely love it. Every time you go in, nothing's ever the same. I've never had a shift that's the same and every patient is different.  
"When you go in, someone might just want to chat to you about the football, others might want to go more in depth and need a shoulder to cry on, others might just want a laugh, it varies. 
"I just love it, and it's never sad. I know that may sound strange to some people who think it's doom and gloom – it's not.  
"It's great and I like leaving there thinking I've made a wee difference to someone this morning, and they always say thank you. 
"I just feel like I've helped someone that day and it's really nice. A lot of people don't have visitors either because they're coming from up north and it's just so nice." 
"Anybody could do this. As long as you have compassion, understanding and are a good listener, you can do it."
Tracy, ward volunteer
Volunteers can support patients during their time in the wards by making a patient a cup of tea and spending time with them. The team also inform patients about the Wellbeing services available to them at their bedside or up in the Wellbeing Centre. 
Tracy explains that patients often tell the ward volunteers things they don't want to share with their family, which she can relate to. 
Tracy said: "They can tell you things that they won't tell their family because they're too scared to say to their family how they're really feeling.  
"Just being able to say it out loud to someone who they know isn't going to repeat it to anyone is good as well and it makes me think 'I've helped them release that'. 
"There were times when I was being told things when I was a patient and I thought 'I need to tell my husband that' - and don't get me wrong it wasn't really bad, but I just thought 'how am I going to tell him this'.  
"At the time, my son was 5-years old and we decided we weren't going to tell him that mummy wasn't well.  
"But I needed to get it out and the only person I could get it out to was my husband and he was still working and keeping us afloat at that time.  
"If I had that one person just to say things to and ask why I was feeling a certain way, it would have helped so much." 
Tracy encourages others to get involved with ward volunteering as a way of giving back. 
She said: "Anybody could do this. As long as you have compassion, understanding and are a good listener, you can do it. 
"Give it a go, see if it's for you. I totally understand it's not for everyone.  
"It can be emotional but the happiness out ways the sadness because you've helped someone. Taking in a newspaper makes such a difference because some of them can't get out of the ward. 
"If it's not for you, you can find something else to do. You could make tea and have a wee chat. Every wee thing helps the patients and helps the nursing staff as well." 
Find out more about our volunteering services here.