A 21-year-old boxer from Lanarkshire is donating £500 from every fight he takes part in to support cancer patients across the west of Scotland. 
Ryan Carlin, who's from Motherwell and previously attended Taylor High School, is supporting Beatson Cancer Charity through his boxing as his granddad is currently being treated for cancer. 
Ryan's granddad previously had high grade lymphoma six years ago and went through intensive chemotherapy. However, he has now been diagnosed with low grade lymphoma, which is being monitored every three months as his body can no longer cope with chemotherapy. 
Ryan began boxing at just 10-years old after watching his older brother, Harry, who competed for a number of years as an amateur boxer. 
Over the years, Ryan progressed onto the Scottish National Elite Team and boxed for Scotland all over the world. He won titles including three Western District Titles, is a three times Scottish ABA Champion and a one time British ABA champion. 
With limited boxing during the pandemic, Ryan decided to turn over the profession rank and has been working with his coach Dominic Vaughan for the past two years, transitioning from Amateur Ranks to the professional game.  
Ryan made his debut in November 2022 at the St Andrew's Sporting Club after being out of the ring for 18 months, winning all four rounds in a 40-36 shutout. He had his second Professional Fight on 23rd March at The Radisson Blu Hotel, Glasgow, where he secured a win. 
PICTURED: Ryan Carlin securing the win against Reiss Taylor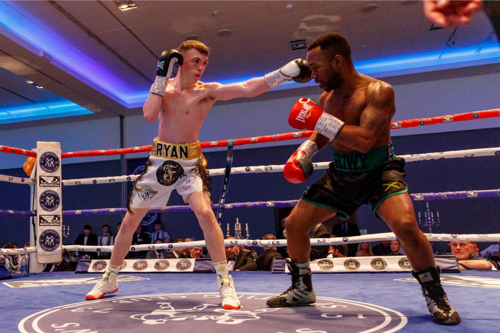 His next professional fight will be on 8th June 2023, at the St Andrew's Sporting Club Dinner Show at the Radisson Blu in Glasgow, against an opponent who is yet to be confirmed. 
Ryan is now donating £500 from every fight he takes part in to Beatson Cancer Charity. He is also wearing the charity's logo on his kit in a bid to raise awareness during his fights. 
PICTURED: Ryan Carlin after his win at the Radisson Blu hotel, wearing our charity's logo
(L-R: Ryan's brother Harry, Ryan, Ryan's granddad and Ryan's sister)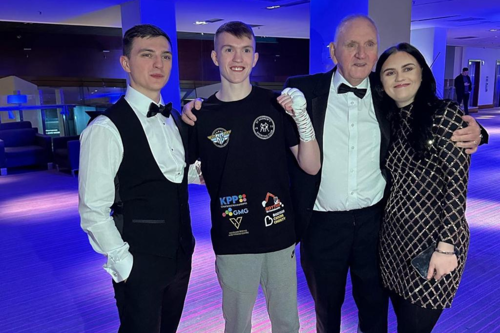 Ryan said: "My dad has supported Beatson Cancer Charity for a number of years and has an annual charity golf day to try and raise as much money as he can for such a wonderful charity, so I wanted to try and do something myself to help.  
"My granddad had cancer seven years ago and was cancer free for a few years, however, it recently came back and we are dealing with that again now.  
"He's a massive boxing fan and has seen me boxing since I was a kid, so it was really special to have him at my professional debut and I know it made him proud. He's not missed many of my amateur fights over the years and is a massive supporter of my career.  
"Being a prize fighter now, it's great that I get the chance to do a bit myself for Beatson Cancer Charity going forward.  
"I sat down with my dad and said I wanted to give £500 from my fight purse and have their logos on my fight kit. This will hopefully raise awareness for the charity as I have no doubt everyone at the fights will have been affected either directly or indirectly from cancer.  
"In this day and age, nobody should be going through cancer on their own, so any help they get is very much appreciated by the charity." 
Mike Carlin, Ryan's dad, said: "As parents, my wife and I are so proud of Ryan for wanting to give money back to Beatson Cancer Charity. He's watched his grandfather go through a lot and just wants to give back and help other families in similar circumstances. He is a fantastic young man." 
Morag Cunningham, director of fundraising at Beatson Cancer Charity, said: "We are so grateful to Ryan for choosing to support us through his professional boxing career. 
"Ryan's dad, Mike, has been an incredible supporter over the years, so it's very kind of Ryan to also find a way to personally support our charity. 
"All the funds donated by Ryan will go towards helping patients and their families across the west of Scotland as they go through treatment."