Alan Kilpatrick is one of the co-founders and directors of Beatson Cancer Charity, who formerly founded Friends of the Beatson.
In 1984, Alan was a student at Glasgow University when he was diagnosed with testicular cancer aged 19. Alan was successfully treated at the Beatson and in the early 90s met Ian Dickson – together they formed Friends of the Beatson. 
Alan said: "Ian Dickson and I are both still directors of the charity. 
"We met when we were both involved in another pre-existing cancer charity after we were both successfully treated when we were a lot younger. 
"At that time there was no cancer charity associated with the Beatson – others in Manchester and London had charities. 
"In 1995 we formed 'Friends of the Beatson' really just as a small, personal way to give something back and raise a little bit of money." 
WATCH THE FULL VIDEO: Beatson Cancer Charity Turns 8: An interview with co-founder and director Alan Kilpatrick
In 2014, Alan and Ian created 'Beatson Cancer Charity' following the success of Friends of the Beatson, which raised around £4 million over the years. 
Alan said: "We decided if we could combine the different funds (Friends of the Beatson and the Beatson Oncology Fund) and create Beatson Cancer Charity it would be even more powerful. 
"It would do more good and it would have a broader set of objectives and that's how Beatson Cancer Charity was formed." 
Eight years have now passed, but Alan shares memories with us of when the charity first launched. 
Alan said: "I still remember it being launched and the posters on the underground of the Glasgow Subway and it was an extraordinary feeling to walk past posters that had been in public view that I'd somehow been involved in. 
"To now hear about what's going on in something I had a small part to play in is quite humbling." 
"That yellow symbolism of hope and positivity actually reflects on the people who really matter - the clinicians within the Beatson."
Alan Kilpatrick, co-founder and director of Beatson Cancer Charity
Alan was awarded the British Empire Medal in the 2013 New Year Honours List for services to the welfare of people with cancer in the West of Scotland. 
He continues to sit on our board of Non-Executive Directors, alongside co-founder Ian Dickson.
Reflecting on the charity's highlights, Alan said: "I think the charity has done even more perhaps than fundraising.  
"That yellow symbolism of hope and positivity actually reflects on the people who really matter which are the clinicians within the Beatson because the Beatson before Beatson Cancer Charity formed wasn't yellow, it didn't have that logo, it didn't have that feel. 
"It was a place that would probably be a little bit hushed, something you didn't want to mention. 
"It's just awfully special that something that can be really, really upsetting for any of us, to have smiling faces, success, happiness, successful outcomes as well as fundraising and making a difference, there are so many positives."
Pictured: Alan and his daughter taking part in the virtual Off the Beatson Track event in 2021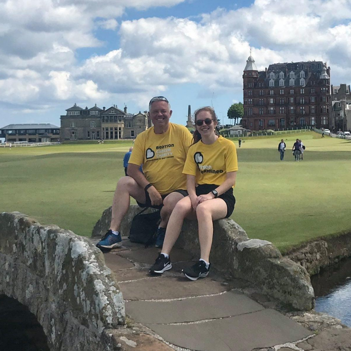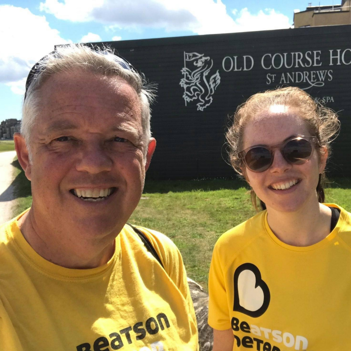 Alan and his family regularly take part in fundraising activities for the charity, and plan to continue to do so for years to come. 
Alan said: "Every event I'm lucky enough to go to, whether I'm just an anonymous runner or whether I'm actually involved as a member of the board is hugely special." 
Alan's time working with the charity has seen him attend every single sporting dinner since they began with Friends of the Beatson. 
He said: "We've got the 25th sporting dinner happening on 12th May in the Hilton and I'm very fortunate in saying I'm one of those who have been at all 25. 
"The events we've had, the speakers we've had, the excitement, the nervousness, the money raised... That event itself will have raised £2 million over these years. 
"From my journey, that event's been very special." 
On behalf of everyone at Beatson Cancer Charity, we would like to say a massive thank you to Alan for the continued support he has shown the charity over the years.