"I have a personal connection to the charity because every woman in my family has had breast cancer. I think this made it extra emotional for me and I had a kind of flashback to everything my family had been through when I heard that I'd won. I never thought one of my products would be sold one day, it's overwhelming."
Isabel Marinho
In February Beatson Cancer Charity announced that Isabel Marinho won a design competition to design a lifestyle product range for the charity. This winning design was named 'Beanntan' which is Gaelic for mountains.
Students on GCU's MSc International Fashion Marketing and BA (Hons) International Fashion Branding were asked to pitch ideas to create lifestyle products that can be manufactured locally and sold to raise funds and increase awareness of the charity's services.
Isabel said: "The idea behind the range was to reflect the journey cancer patients, their families and friends go through. The range of outdoor clothing inspired by the journey cancer patients and their families go through will help to raise vital funds for cancer care."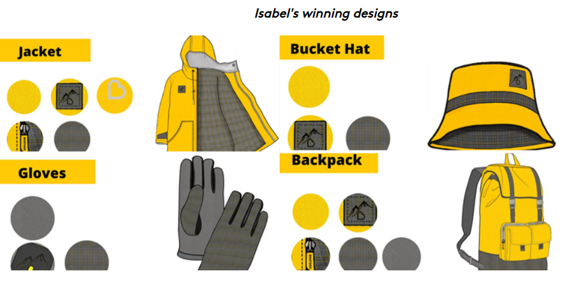 We are delighted to announce that the product that will be available to pre-order on the charity's online shop is, a standout bucket hat that incorporates our brand colours as well as the Beatson Cancer Charity Tartan.
The brief for this project also included a preference for the product to be manufactured in Scotland or the UK to reduce the environmental impact.
The tartan print which has been used to trim the hat was manufactured in collaboration with Glasgow School of Art. This involved the charity working with a second educational establishment in the production of our bucket hat. The base material is a certified organic cotton and a digital pigment printing method was used as there is no water wastage and provides superior UV protection. Working with GSA also meant we could order only the amount of material required, reducing fabric and ink waste which again makes our bucket hat more eco-friendly.
Also, after contacting a number of different manufacturing companies, the charity will continue to work with existing supplier, Paisley Textiles who have also been really helpful in getting the design to production. Their expert advice has been of great value as specialists in quality cap, hat, and accessory manufacturing.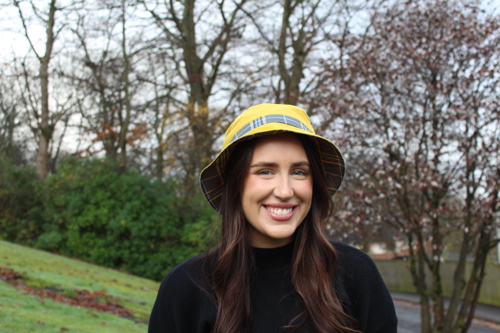 Aileen Stewart, leader of the Fashion Brand Development module at GCU, said: "The collaboration with the Beatson Cancer Charity has been a fantastic opportunity to develop new innovative products with sustainability at the core."
The other material that will be used is, a yellow waxed cotton.  Sourced from Dundee-based company, Halley Stevenson's who are the world's leading manufacturers and innovators in waxed cotton and weatherproofed fabrics. All their dyeing and finishing is "under one roof" based at Baltic Works in Dundee. Waxed cotton is a specialist material which is gentle to the environment, using low-impact processes and by-products from other industries. The waxes they use are fully biodegradable.
We also would like to credit Curtis Moore for the financial support they have provided to help make this project come to fruition. Overall, we are delighted with the end result and hope we can showcase in some way all our Beatson Tartan bucket hat has to offer. You can read the previous story and watch an interview with Isabel here.