Beatson Cancer Charity is always looking at innovative projects to fund that will enhance lives of those affect by cancer. In this case the charity was delighted to fund a project that will specifically help Sarcoma patients with understanding their treatment process through "Augmented reality"
Steven Lo a Clinical Lead Glasgow Centre Scottish Sarcoma network is developing an app with the School of Simulation and Visualisation, at The Glasgow School of Art, and will roll this out to all UK Sarcoma centres via a freely downloadable, user friendly app.
Steven explains the process of how this app will help Sarcoma patients as we go in to generation of those using smartphone technology.  
"In the Harry Potter films, newspapers come 'alive' with moving images and words. However, this is not science fiction – we have already developed a patient information leaflet that can come 'alive' with videos and 3D models using a smartphone.  This is known as Augmented reality, which is the use of technology to superimpose information - sounds, images and text - on the world we see.
"The treatment of sarcoma can be overwhelming and confusing to patients. Current patient information leaflets do not adequately explain complex 3 dimensional concepts such as resection or reconstructive surgery, using the 2 dimensional restrictions of paper. Nor do they show expected patient outcomes e.g. 'can I walk after surgery?'. We hope to improve the patient experience dramatically using Augmented Reality." 
Proof of concept. A working prototype 'leaflet' has already been produced. The additional 'augmented reality' content demonstrates sequential thigh tumour resection, a 3D model of the thigh flap, and a post-op patient gait video.
This allows patients to see the entire process of sarcoma surgery and possible patient outcomes after surgery e.g. "I'm having the same surgery, I now know what it involves, and I can see that I can walk after surgery."
See below: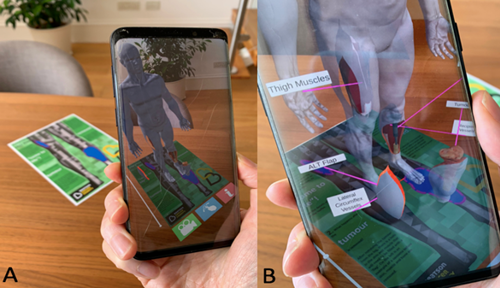 How does the app intend to work?
Patients open an app on their smart phone and scan the leaflet on the table with their camera which then triggers an interactive 3D holographic version of the leaflet on the patient's smart phone. The 3D holographic version of the leaflet allows the patient to access additional information about sarcoma diagnoses and treatment options in an accessible manner which helps to empower the patient and assist the clinician during important discussions about the patient's healthcare.
AR Leaflet in use: You can see the 3D model comes out of the page as if real. It is fully interactive and comes with an audio guide.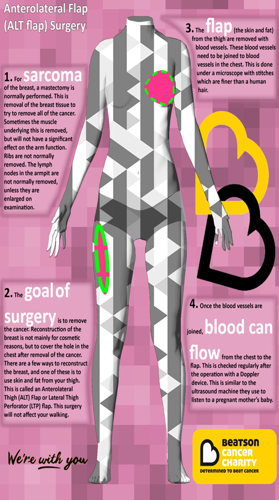 Results and Aims
Although the project is still under development, there has been some initial trials with 24 patients to see how using augmented reality could help them understand their treatment process.
In the UK, once the app is rolled out nationally, could directly benefit up to 5,300 sarcoma patients per year. Patients who have seen the leaflet have found it to be much better in terms of understanding a surgical operation than currently available in leaflets.
One of Mr Steven Lo's patients had this to say about the app.
"On my visit to the hospital Mr Steven Lo had shown me the benefits of an augmented reality leaflet, It makes the whole procedure a lot easier to understand and also show you in a quick and informative way. I think it would be great for anyone who find this booklet a lot to take in or problem understanding concepts. I wish this had been around when I had my operations to fully understand what was involved."
Sarcoma Patient
---
We are committed to funding world-class innovative projects that has the potential to benefit  lives in Scotland and beyond. 
Donate today here or find out more about our impact through our funding here.