Tracy, one of our ward volunteers, takes the time to speak to us about her volunteering experience and the impact ward volunteering can make for patients. 

How long have you been a volunteer and what have you done?
"I became a Volunteer for Beatson Cancer Charity in May 2017. I have helped at the Ladies Golf, Bucket Collecting at M&S, The Beatson Ball, Masquerade Ball, The Bard & His Belles Ball, Sporting Dinner & Partick Thistle's End of Season Ball.
Why did you decide to start volunteering for us?
I decided to become a Volunteer after finishing treatment for breast cancer. The care I received from The Beatson is beyond amazing. Quite simply, without it my son wouldn't have his mummy and I can never repay them back for this. By becoming a Ward Volunteer I have been given the opportunity of becoming part of The Beatson team, I appreciated the kindness, support and care shown to me during my cancer treatment so it is now my chance to be able to give back to others now going through the same as I was.
Can you tell us about your diagnosis, how you coped with it all?
When I was diagnosed with breast cancer, apart from the emotional impact, as a family we were going to face financial impact due to me being off work for an indefinite time. Luckily for me my employers, Glasgow Audi, and my manager Robin were absolutely fantastic with me. Their support to both myself and my husband was tremendous.
From day one I did have initial guidance from the SHAWs team at the Beatson Cancer Charity. Luckily I didn't need to take it further, but it was there for me if I needed it.  I would advise any cancer patient or their partner to contact the SHAWs team for advice, they advise you and your employer on the support required for you when you're going through your cancer journey and help reduce the stress giving you less worry.

Can you tell us about some of the services a ward volunteer provides?
When I'm volunteering on the ward, with each patient we can provide something different depending on the patient's mobility, where they are on treatment, if they are receiving visitors, etc. One of the most important things I do is the "What Matters To Me" board which is above each patient's bed. After speaking to Senior Ward Staff we decided to make this board more about the person rather than just another patient. Now when we are filling this board out we let the patient know that if they want the board can be all about them, so that staff know them as a person. Patients, so far, love this as it gives them the opportunity of letting staff know what they are/were like outside of The Beatson - the board leads to great topics of conversation with the staff and patients. The chat I get when filling out these boards is great, making patients feel more relaxed about chatting away.
I always offer a cup of tea or coffee, as this is a great ice breaker when you see someone just sitting alone, and most of the time I then end up sitting and chatting with the patient once I have made them a cuppa. I encourage patients to either visit the Wellbeing Centre or have one of the Therapists visit them. They all deserve a bit of pampering to help them relax and feel good about themselves. We can also read to patients, do puzzles and watch TV in the day room with them.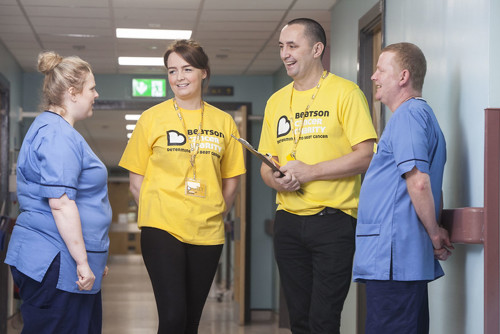 You are one of the first ward volunteers, how have you found working in this role so far?

 
At first I didn't know what to expect, it was really going into the unknown. From day one I have absolutely loved becoming a Ward Volunteer. The ward I have been placed in is brilliant, all of the staff are so friendly and if I need any guidance at all they are always there to help. I feel privileged that I was chosen to do this role and given the opportunity to help others make their stay in The Beatson as relaxed and comfortable as possible for them.
How do you think ward volunteers make an impact during the patient's treatment and journey?

 
Ward Volunteers can make an impact during a patient's treatment and journey because we can be there when families and friends aren't and this is when some patients can open up more without worrying about upsetting their families and friends as they know that anything they say to us is confidential. One minute a patient can be in tears with us letting it all go and the next we are having a laugh, we never judge anyone. What a patient is going through is a very difficult and hard journey, we are here to try and help them and just be there for them no matter what. It is such a great feeling when a patient thanks you and tells you that they have enjoyed their time with you and are looking forward to seeing you again, you then know that you are doing something right.
What do you enjoy most about volunteering for the charity? 
I enjoy volunteering for the Beatson Cancer Charity. Firstly, because I was a patient at The Beatson, it is very close to my heart and I have had friends who have also been patients, so I will always have links to it. I love the fact that when I attend functions there is always at least one person who will come up to me and tell me their story about The Beatson without me prompting them.  It is either about themselves, a family member or a friend who has been a patient and how much they appreciate everything that The Beatson has done for them, this really makes me feel proud to be part of Team Beatson.
What makes The Beatson special in your view?

 
The Beatson staff are so determined that every single patient receives the best care and treatments available and are dedicated to one day finding a cure for all cancers. People are probably surprised when they visit The Beatson as it is not a sad place, because of the positivity within the hospital it is quite upbeat which helps everyone. Of course, personally it will always be special to me as The Beatson saved my life.
Do you have any hobbies? What do you enjoy doing in your spare time?

 
Just now I am trying to get back to "normal" life, following treatment. I enjoy reading with my Kindle, we have a Boxer dog who takes up a lot of time, love binge watching TV box sets and spending time with my husband Dale and my son Logan."
We truly appreciate Tracy taking the time to speak to us about her volunteering experience and the huge impact ward volunteering can make for patients. Find out more about volunteering or complete a volunteer application form.
I feel privileged that I was chosen to do this role and given the opportunity to help others make their stay in The Beatson as relaxed and comfortable as possible for them.
Tracy